Synthetic Biology Platform
Capabilities & Available Services
In the Synthetic Biology Platform, we design and genetically optimize the microorganisms employed in Inmet. With a multidisciplinary approach covering Molecular Biology, Systems Biology, and Microbiology, we work collaboratively with the platforms of the company to continually modify and improve the strains.
Also, our platform offers technical advice and provides plasmids and strains construction services, both to external clients and companies from Bioceres Holding.
Our equipment consists of thermocyclers, electrophoresis and electroporation systems, temperature-controlled shakers, UV/visible spectrophotometer, diverse nucleic acids purification kits, and a broad range of DNA-modifying enzymes.
Services
Cloning and assembly of plasmids and DNA molecules of interest.

Microbial transformation: Escherichia coli, Bacillus subtilis, Pichia Pastoris, Agrobacterium tumefaciens. Other species please enquire.

Genetic Engineering Services: mutagenesis, deletions and insertions.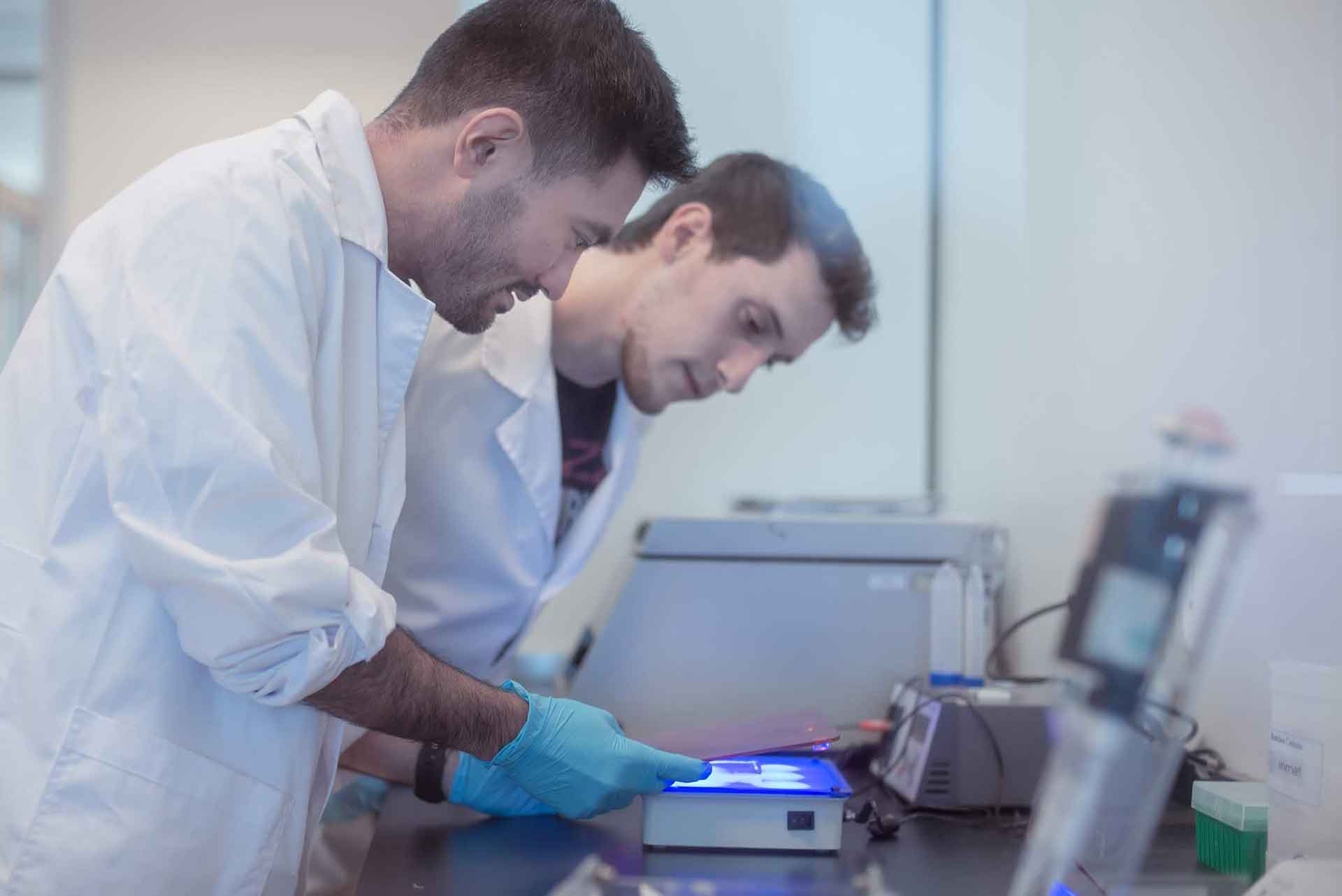 Human Resources
Leandro Nakamatsu
Leandro has a bachelor's degree in Biotechnology (Universidad Nacional de Rosario – 2011).
He is part of Inmet since its foundation in 2011. Specialized in Genetic Engineering & Metabolic Modeling, Leandro currently supervises the Synthetic Biology Platform, where he is in charge of the genetic optimization of the microorganisms used in Inmet.
Alfio Daniele
Alfio is a Microbiology and Biotechnology Technician (Instituto San Juan Bautista de La Salle – Rosario – 2013) and he is currently studying Food Technology (Universidad Nacional de Rosario).
He joined Inmet in 2014 as Assistant Technician. In this position he acquired knowledge and experience in a variety of Microbiology & Molecular Biology techniques. Nowadays, he works on R&D projects, specifically, in the assembly of genetically modified microorganisms for the Synthetic Biology Platform.
For Synthetic Biology Services:
Leandro Nakamatsu, B.S. (Bachelor's degree in Science)
Supervisor of Synthetic Biology Platform
[email protected]
+54 341 4861121 (Management)
+54 341 4861120 (Services)
Ocampo 210 bis, Predio CCT Rosario (2000) Rosario, Santa Fe, Argentina
For more information about our services or to set up an appointment in order to discuss your project of industrial residues bio-transformation, you do not hesitate in contacting us for any questions.